Marriage And Family Therapist, Kellye Laughery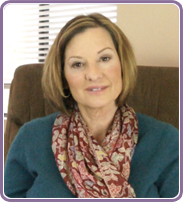 Kellye Laughery is a Licensed Marriage and Family Therapist, a Registered Play Therapist, and the owner of The Center for Family Unity – San Diego, CA
I never planned to be therapist. In fact, I spent the vast majority of my life working in fields that had nothing to do therapy. I owned the first surf shop in Ixtapa-Zihuatenejo, Mexico. I worked as an executive for a Fortune 250 company. I taught English. And my education? Well, that too, showed no inkling of what was to come. I earned a Bachelor of Science in Business Management, and later, an Executive M.B.A.
Becoming a therapist was nothing short of an act of God. You see, while I was busy building what I thought would be a very fulfilling career, my personal life fell apart. I struggled through many deeply painful and lonely years. I battled more personal demons than I care to remember. I got to know grief in a way that I wouldn't wish on my worst enemy.
And then, I broke free. I learned how to build mansions from ashes. I discovered how to transform my pain into strength. My loneliness into community. And my grief into joy.
That's when I first felt the call to become a therapist. I had been transformed. And I had a great responsibility to share what I had been given. To touch lives for generations. And to create a ripple effect of healing for the kingdom of God.
And so, I left the world I knew, and pursued a formal education in healing–from a Christian university that emphasized spiritual integration in psychology. I graduated with my Masters in Marriage and Family Therapy from Hope International University and began my private practice in 2008.
Very quickly, I realized most of my client's deepest struggles stemmed from living in divided homes–where promises had been broken and dreams had been shattered. People were believing lies that life would be better if they divorced. But it wasn't. 50% of my juvenile clients were in distress over their parent's divorce. Second and third marriages were failing at astonishing rates. Something was very wrong. And I had a responsibility to do something about it. That's where my vision for The Center For Family Unity was born.
And now, combining my education and life experience, I'm a licensed Marriage and Family Therapist, a Registered Play Therapist, and a woman that's passionate about changing lives, one family at a time. My formal education in Child-Centered Play Therapy, Child and Adolescent Trauma, Sand Therapy, Emotionally Focused Therapy, Divorce Care For Kids, Healing Prayer, and countless other modalities has equipped me to guide families in their healing journey.
I want you to move forward in your life. That's why I integrate unconventional tools and processes into my practice–like pet therapy, play therapy, and whole family counseling. I invite you to schedule your first session, and to experience for yourself, how therapy at The Center For Family Unity is different. It works.